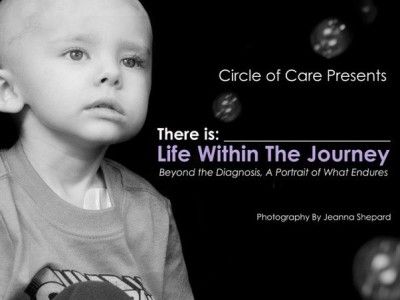 Life Within the Journey is a revealing photojournalistic gallery featuring portraits of 43 of our pediatric cancer patients, representing the 43 children who are diagnosed every day. We invite you to see the other side of a cancer diagnosis -- the bravery, the spirit, the hope – and to celebrate the families who have endured so much. 
Conceived and developed by Circle of Care, the exhibit presents an alternative view of childhood cancer as delicately captured by photographer Jeanna Shepard.  "Life Within the Journey" illuminates the power behind the children who so bravely face this disease, highlighting the personalities and character traits of each child, from defiance to determination, resilience to fortitude.
The exhibit will travel to different communities throughout the state over the course of the next year, primarily in public galleries. The exhibit is also on display on the pediatric oncology unit at Smilow Cancer Center at Yale-New Haven Children's Hospital providing hope, comfort, and community to newly diagnosed children and their families. Come see the traveling exhibit and help us bring it to a gallery or school near you!
Upcoming Shows:
2017
June 1- 30 The Legislative Building at The Capitol in Hartford.
Thanks to our generous sponsors:
 Morgan Stanley, Northwestern Mutual Russo Financial Group,The Community Foundation for Greater New Haven, and Price Financial Group.