Making a Difference in the Lives of Children with Cancer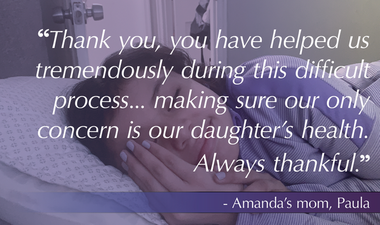 We can't change the diagnosis, but we can bring a measure of relief along the journey. We can change moments. We can let families know they're not alone. We can be with them on their journey at crucial points... that's how we have a very direct and powerful impact on the children in treatment here in our community. 
 Our unique combination of programs provides practical, emergency, financial, and emotional support to address the non-medical needs of children with cancer. 
Circle of Care, and I don't generally speak this way, they're like angels of mercy. They're the right people at the right place at the right time, during something no parent should have to go through. - Julian, Hannah's father
---
Established in 2003 by families whose children battled cancer, we have grown from being a local organization helping limited numbers of families to one that now operates state-wide and has earned the trust and respect of the medical community, corporations, foundations, and individual donors. We have reached over 3,000 families, delivering Bags of Love - available to every child in Connecticut on their day of diagnosis, transforming over 150 rooms through our dream room makeover program, and providing over $3 million in overall support to families facing a pediatric cancer diagnosis.
Circle of Care prides itself on having a direct impact on the children and families we serve. While there are metrics that can be used to gauge the impact of any individual program, maybe the most important measure of our impact is the response we get from the families we serve. 
"I cannot thank Circle of Care enough for your generosity. As you know, this is a very trying time for us with our entire focus on our son's well-being. It is very difficult for us to work when our son is literally screaming in pain. Fortunately, we are both self-employed and we do not have a limitation on time-off. Unfortunately, when we don't work, we don't earn any money. Your generosity will help us to keep our heads above water. When your child is suffering, nothing else matters, and financial concerns become secondary, although not to the bill collectors…"
---
Our services are available to all children who are residents of Connecticut, regardless of need. While most are treated at Yale-New Haven Children's Hospital and Connecticut Children's Medical Center – the only two pediatric cancer treatment centers in the state - we also support children from Connecticut who are treated elsewhere in the country. 
Annual Reports