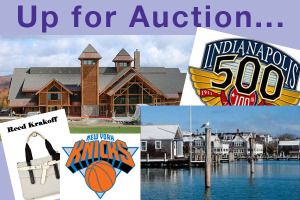 Ever dream of skiing on a private mountain, with no lines, just 3 hours from your doorstep? Or taking a break to relax by the fire in a brand new, 85,000-foot timber frame lodge, while the kids enjoy tubing, snowmobiling or skating? Or maybe, with your new guest membership to the exclusive Hermitage Club in Vermont, you can take a quick trip to enjoy a round of golf and the spa during the summer.
How about spending a week in the serenity of Martha's Vineyard, in a beautiful home a stone's throw from the beach? From the slopes of Vermont to the shores of Martha's Vineyard, your dream vacation can become a reality thanks to the generosity of our donors, and our 10th anniversary Gala on Nov. 15.
Or maybe you're a sports fan. How would you like to hear the roar of the engines and watch the Indy 500, or listen to the roar of the crowd after a dunk at a Knicks game? Into food and wine? How about a culinary tour of Fairfield County, with gift certificates to a dozen of the area's best restaurants. Or maybe you fancy a more creative culinary experience, hosted by Circle of Care Co-Founders Liz Salguero and Dawn Ladenheim, as they and other members of the board host a dinner party for you and your guests.
The Gala, to be held at Dolce in Norwalk on Sat. Nov. 15th, is shaping up to be a fun night, with a full bar, a live band and fantastic silent and live auction items – all to benefit Circle of Care's programs.
The Gala is off to a strong start, thanks to our early sponsors, including Northwestern Mutual, Colgate Palmolive; the Madison Friends of Circle of Care; Liz & Jeff Salguero; Moffly Media; Scheid Vineyards; Kristin Thomas, Love Your Look; Deborah Murtaugh; The Center for Advanced Pediatrics; Highway Safety Corporation; Katzke & Morgenbesser, LLP; Susan & Tony Kobylinski; Dawn & Mitch Ladenheim; Northcoast Asset Management; Yale Smilow Cancer Center; Advance Development & Mfg. Corp.; Tim & Denni Carroll; Robert Deering; Jim & Shelley Farmer; Jeff & Tracy Gould; The Kelleher Family; Annie & Bob McHugh; MariBeth & Ernie Stolzer, Liz & Harry Ardolino; Bankwell; CT Chapter of the American Academy of Pediatrics; Connecticut Children's Medical Center Foundation; Mr. and Mrs. Sam Gault and Gault Energy & Stone; Joanne DuBosque & Lars Guy; Margaret & Fred Lyle; Madison Fresh Air Fund; Carol & Hunt Newton; Sherri & Jay Pasqualoni; Mr. & Mrs. William Pratt; Wendy & Gary Price; Mr. and Mrs. Christopher Raleigh; Joanne & Jeff Reynolds; Mr. Greg Scott; Jeanne & Steve Stewart; Judy & Steven Wales; Ms. Jillian Wood; Dani & Bill Woods on behalf of Kendall and Tyler Woods, among others generous supporters.
Have an auction item you'd like to submit? A unique experience you'd like to share with our community? It's not too late. Please contact Martha Borrero or Jeff Salguero at info@thecircleofcare.org