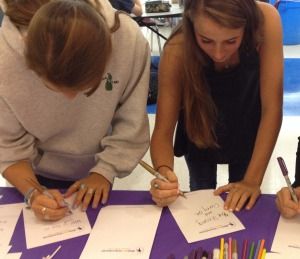 Students at Wilton High School recently launched a campaign to show their support for children with cancer and send an important message during Childhood Cancer Awareness Month: that Children are NOT their cancer. It's a message inspired by children with cancer in our community, like Catherine in Fairfield and Eli in Stamford, who began posting their stories on the Circle of Care site this month as part of our "I'm NOT my cancer" campaign (http://www.thecircleofcare.org/im-not-my-cancer-profiles/). "Too many children with cancer are known for the disease they have, not who they are," said Liz Salguero, Circle of Care Founder. "We launched this effort — which will live on our site beyond this month — to provide a forum where children with cancer can tell the world about who they are. We want to change the narrative around childhood cancer to remind everyone that kids are just kids – they are NOT their cancer."
With each submission, Circle of Care shares the stories on their website and through their social media platforms. "With 46 children diagnosed every day, more families than ever are dealing with pediatric cancer, but we want them to know that we in the community honor them for who they are, not the disease they carry," said Dawn Ladenheim, Founder. "Quite often, with so much focus on the cancer and the need for cures, the children get lost in the shuffle."
Students at Wilton High School want to make sure that doesn't happen. Wilton High School students Grace Kelleher and Caraline Higgins were so moved by this effort that they spent the summer making posters and getting organized, petitioning the school to allow them to set up tables at lunch for a week at the beginning of the school year. There they shared the profiles of the children, information about childhood cancer, and they asked their fellow students to write personal notes to support children in treatment, which Circle of Care delivered to hospitals. "While there have been many successful viral campaigns that have captivated our attention, these students wanted to do something that was more personal, and directly connected to children with cancer in our community," said Liz. "Like Circle of Care itself, these students are learning that they can have a direct impact, and that's a powerful lesson." If you know a child with cancer who wants to share their story, please contact us. You can also show your support by visiting our Facebook page and sharing the stories of these children.