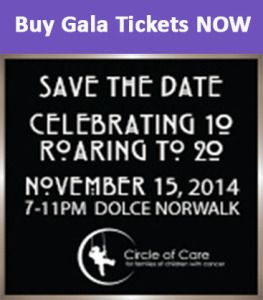 Who lets a 10th anniversary go by without throwing a party??
Not Circle of Care, that's for sure! As we look back at our first fantastic decade – and the countless families we've grown to love along the way – we are ready to celebrate and energize for our next chapter.
Circle of Care: Celebrating 10…Roaring to 20 will take place on November 15 at Dolce in Norwalk. As Gala co-chairs Jeff Salguero and Martha Borrero tell us, the emphasis will be one on thing: a good time for all. "This is not going to be a sit-down at a table kind of event, says Borrero. "We want to keep the energy going; it will very much be a club feel throughout the evening with a really rocking band."
The theme for the event came from the evolution of Circle of Care itself.
"We started with this notion of celebrating ten years, but also looking forward full steam ahead toward the next ten. That lead to thinking of roaring to twenty," Salguero says. "It was an interesting play on words about a fun, celebratory era. This is not a costume party, though; the idea is simply to borrow the energy and vibe associated with that time."
"This anniversary is so important because we're celebrating all of the success Circle of Care has experienced and all of the amazing programs they've developed over the years," Borrero adds. "At the same time, we're getting everyone excited about what's to come."
Circle of Care's specialized programs, including Art from the Heart, Bags of Love, Emergency Funds, Lifeline and Volunteers will all benefit from funds raised at the event, which will include silent, live and paddle auctions to go along with delicious food and drinks throughout the evening. Festivities will kick off at 7:00 p.m.
Looking back on the last decade, Salguero – husband of Circle of Care President and Co-Founder Liz Salguero – says he does so with great pride.
"We were going through this whole journey at the time, and Liz felt very strongly about starting this," he says, referring to ten years ago when their own son, Carlos, was being treated for leukemia. "I give it to her one hundred percent. At a time like that, you are barely holding your own, and going through your own issues, let alone thinking about the whole state's issues. But that's what she did. She said we've got to turn something bad into something good."
Today, Carlos is a healthy high school student who enjoys fencing and spending time with friends and family, including his two older sisters. Circle of Care, meanwhile, has grown into a thriving and highly respected organization which has helped more than 1,600 families throughout Connecticut and parts of New York. But Salguero says the work is far from over.
"There is still a need. We're not finding a cure where there is an end date; we are taking people through the journey," he says, adding that he would like to see Circle of Care reach even more families. "I see the potential to expand the organization regionally. We have some exciting things in place to kick off our next chapter, including some new people on board who are bringing in fresh thinking and great ideas."
Borrero says she hopes the gala will serve as an introduction to those who may not know about Circle of Care but who want to learn while having a fun night out.
"If you talk to any parent, even if they have a healthy child, they may have a friend whose child is not. We want to make this a fun event which can bring in new people to help spread the word about what we do," she says. "So come! And bring your friends!"