Meet Daniel - Our 2023 5K Champion!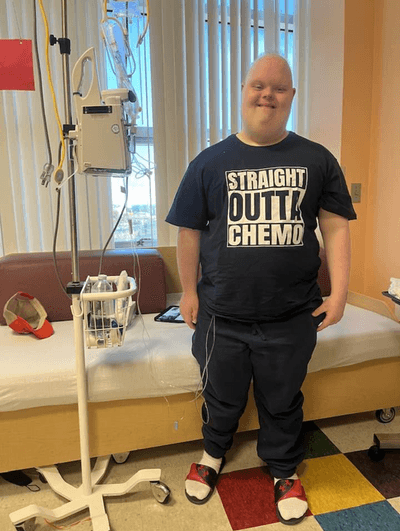 You probably don't know many 19-year-old boys that are beaming with energy. Our 2023 5K Champion Daniel has a sense of humor and a refreshing enthusiasm that is guaranteed to make you smile until your cheeks hurt. He also has an equally impressive twin brother, Caleb. Together, they share a knack for bringing joy and laughter wherever they go. If you met Daniel today, you might find it hard to believe that he's been battling leukemia for the past year. 
Daniel spent the majority of last year at Connecticut Children's Medical Center. As with almost all children diagnosed with cancer, he was immediately admitted to the hospital after being diagnosed. Born with Down syndrome, he is "high risk" and required more time in the hospital than others with the same diagnosis. He spent many months inpatient, going through chemo, with a couple of short trips home in between his treatment cycles. 
You wouldn't detect from his upbeat demeanor just how many complications his treatment has caused for him. Because cancer damages tissue in the body which causes swelling, cancer patients are at a higher risk for blood clots. Daniel, unfortunately, experienced several blood clots attached to his Port-a-Cath and PICC lines – the entry points for his lifesaving chemotherapy treatments.
Daniel was given steroids as part of his treatment protocol. But as his family has already learned, along with just about every part of cancer treatment, there are side effects. The steroids Daniel was given altered his blood sugar levels, and for Daniel, this led to him developing diabetes… and diabetes led to a loss of vision. 
But it wasn't cancer, or the blood clots, or diabetes, or even the vision issues that affected Daniel the most… it was the isolation. We often hear about the physical impacts of cancer, but not enough attention is given to the mental damage it can cause. Because chemo weakens the body's immune system, impairing its ability to fight off infections, Daniel – with his high energy and need for social interaction - had to be isolated. He was unable to see his family or friends. And maybe not being able to see his friends would have been okay, but he needed his best friend of all, his twin brother Caleb. Being apart for this long took a toll on both of them and throughout Daniel's long stays at the hospital, he and his brother both wanted nothing more than to be together at home.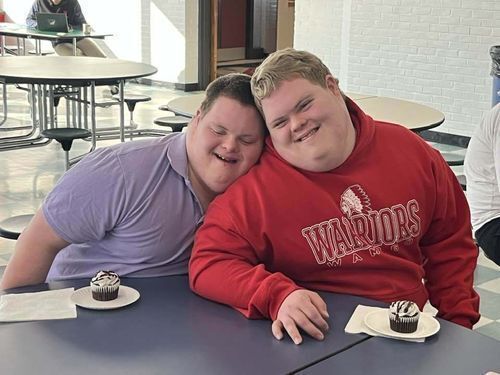 Daniel's father, Chip, had to take a lot of time off from work during the many months that Daniel had to spend in the hospital. Like many parents of cancer patients, he couldn't earn a salary during this time. This is why we provide non-medical financial assistance to families and were able to pay Daniel's family's mortgage while they focused on what was most important – Daniel's health and healing.
There is no guidebook for how children are supposed to act when faced with cancer and all it entails. For Daniel, his natural response was to continue spreading his love and sharing his charm with the people who took care of him. Everyone… his nurses who kept him comfortable… his doctors who worked so hard to make him healthy… the people who cooked his meals – because as Daniel will share with you – he loves his food… the security personnel who kept the hospital safe… the cleaning staff who kept his room neat and tidy... Daniel was so grateful for everyone who kept him feeling good – and he wanted them to know. He wrote thank you notes to everyone in the hospital who helped him. He even sang to his doctors. 
Most people wouldn't be too thrilled about being woken up at 3 AM. Nurses in the hospital are aware of this. So, Daniel's nurse was caught off guard when she woke him to check his vitals and he smiled and said "Thank you – you're pretty." As the hospital staff succumbed to Daniel's charms, they started to playfully fight over who had Daniel next. Being one of the older patients on a pediatric cancer floor, he became a "big brother" to many of the younger patients. He unleashed his silly nature by playing pranks on his nurses using remote control mice, fake snakes, and even an artificial finger with a nail through it.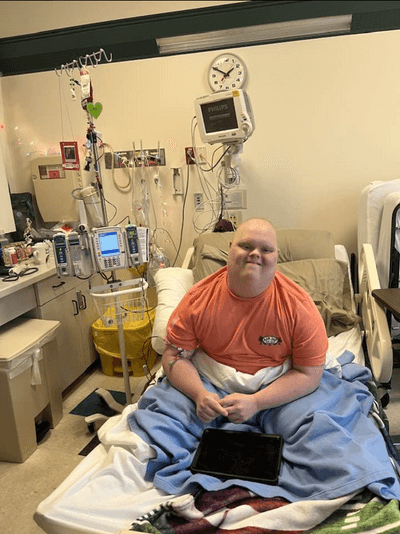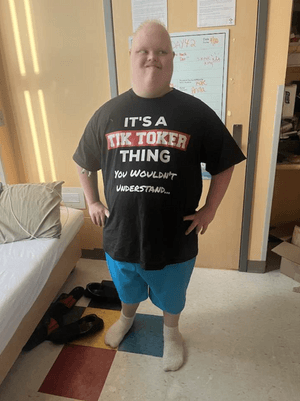 The highlight of Daniel's long hospital stay was a series of TikTok videos, featuring Daniel showing off his, and his nurses', dance moves. When Daniel is having fun, everyone wants to join in. His TikTok videos became a sensation. His biggest hit was a choreographed video to Celine Dion's "It's All Coming Back to Me." Well, move over Celine, because Daniel B. was in the house! Everyone deals with cancer treatment differently – but Daniel's outlook is especially unique and a true testament to his character.
Upon returning home from the hospital, he was thrilled to find that his room had received a complete makeover through our Art From The Heart program. His room was transformed into a "dream room," complete with a TV, popcorn machine, funky artwork of his favorite animals, and an oasis of snacks underneath his bed. A sign hangs over the room officially declaring it "Daniel's Man Cave." We know that siblings of cancer patients often don't feel they are receiving the same attention as the sibling who's sick, so we also completed a makeover of Caleb's room. Daniel is happy to be back home now but still goes to the hospital periodically to continue his chemo. Caleb, of course, is happy to have Daniel back home as well and is very proud of him.
Despite all that Daniel has gone through, he feels lucky to have so much support and is grateful for all the friends he has made on this journey. He has an admirable appreciation for life and sees most days through rose-colored glasses. His mother, Tracy, has chronicled the past year in a touching series of social media posts under the hashtag #TeamDaniel. We couldn't be prouder to have him as our 2023 CARE to Run 5K Champion. As the words go in his hit Celine Dion TikTok video, "I made myself strong again somehow… it's all coming back to me now."