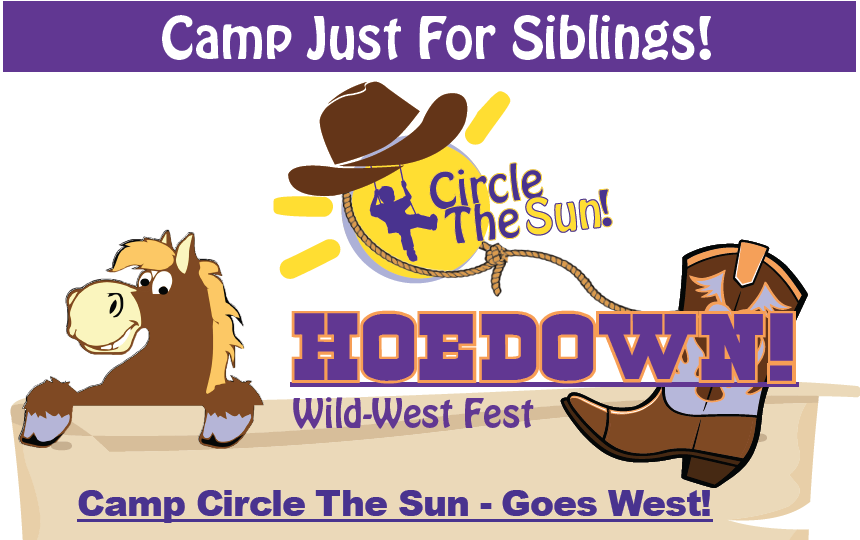 Circle the wagons! Round up the herd! And join us for a wild west week of fun and adventure! 
Working in partnership with Camp Rising Sun, we're so proud to be a part of providing an amazing week of camp that meets at the same time, same place, so pick up and drop off couldn't be easier.  Now all the kids can go to camp this summer.
Camp Week: August 19-24
CAMP IS FULL!  Please email us to be put on the waitlist. 
---
Some important information...
Camp is only open to siblings of registered Camp Rising Sun campers.  If you have not yet done so, CRS campers should register online at http://www.camprisingsun.com/camper-registration. The deadline for returning CRS campers is July 15th.
Siblings must be between the ages of 8 and 14 on the first day of camp – Sunday, August 19th.
Circle the Sun Camp will be held at Camp Hide Away on the grounds of Camp Jewell YMCA from Sunday, August 19th through Friday, August 24th. These are the same dates as Camp Rising Sun. The camp is on the same property as Camp Rising Sun but has separate facilities on the other side of the lake.
Siblings must complete all required paperwork including a medical form completed by a physician within the prior 24 months of camp.
There are no plans for Camp Rising Sun and Circle the Sun campers to have any interaction  - do not expect that the campers will see each other at all during the week.
There is no cost for siblings to attend the camp. Thank you to all our donors.
Enrollment will be limited to 60 campers.  The deadline to sign up is August 7, 2018.