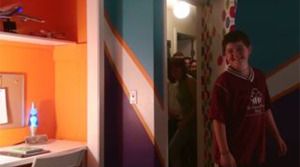 When the Wilton-based Art From the Heart team met Henry and saw his room, they knew that they could create a special space for a boy who truly deserved it. Henry's room was a mixture of hand-me-downs; one wall even had a huge collage of his sister's pictures hanging next to a pink, yellow and lavender shelf! The team spent some time getting to know Henry so that they would be able to transform his room into a space that he could really love. 
A wonderful group of dedicated teens worked hard on Henry's room. With Henry out of town at the time of the makeover, they were able to work long hours and they were motivated to finish the space so that they could surprise him upon his return. On the day that the team planned to reveal Henry's new room, they were told that it would be his birthday the following day. His father had surprised him with tickets to the Yankees vs. Orioles game at Camden Yards in Baltimore, so he wouldn't be home until late that night. When the group heard it was his birthday, they were determined to celebrate with him no matter what time he would return home. Even though it was a school night, Henry arrived home around 10:45pm to a group of eight excited teenagers ready to present his new room and wish him a very happy 11th birthday!
Henry's mom told the AFTH team coordinator that of all that Henry had received since his diagnosis (including a trip to the Bahamas and summer camp for kids with cancer), he was most excited about this room makeover. She said that while he had created some great memories, this room was all his own and would be something that he would get to keep with him and enjoy every single day. She loved how abstract and fun the room turned out, but most of all, she loved that every place she looked, it felt like Henry.
The Art from the Heart Wilton team, made up of Wilton teenagers, worked tirelessly but happily from Friday afternoon through Sunday evening — taping, painting, assembling furniture and light fixtures, and moving furniture up and down stairs. Doing something special for Henry was truly a gift for everyone involved. Many thanks to Keough's Hardware in Wilton for donating the paint and Utopia in Norwalk for a generous discount on lava lamps.