Gio's Room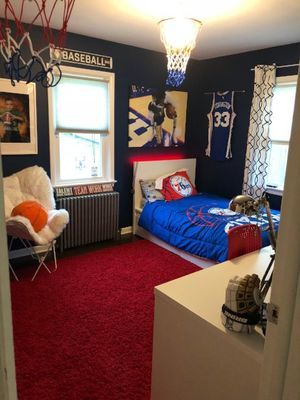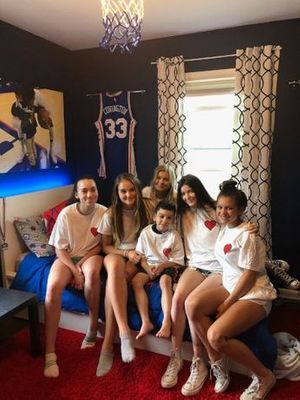 The Greenwich Art from the Heart (AFTH) team spent Memorial Day Weekend transforming the room of Giovanni Toribio, a six-year-old cancer survivor, into his personal fantasyland. Art from the Heart is a room makeover program run by Circle of Care, an organization whose mission is to provide direct practical, emotional and financial support to children with cancer and their families in Connecticut. Circle of Care's Art from the Heart teams have transformed more than 100 rooms over the past 10 years, providing children and families facing cancer with a much-needed distraction and something to look forward to during difficult treatments. The AFTH room makeovers are organized by volunteers who donate their time to create thoughtfully-designed spaces that delight the children and their families. 
Giovanni was diagnosed in Spring 2016 with Stage 3 Anaplastic Large Cell Lymphoma. The once-vibrant sports fanatic endured many rounds of debilitating chemotherapy. His family was devastated when they learned of a second diagnosis of unrelated McCune Albright disease, a rare and complex genetic disorder affecting the bone, skin and endocrine system.
The Greenwich AFTH team heard about Gio and the need for more surgeries and treatment, and they decided to get to work on a room makeover. Cancer treatment is emotionally and physically draining, particularly for children who have to endure long hospital stays and extended periods of time at home, away from school and friends. A room makeover allows kids like Gio to have something to look forward to, and participate in, during such a challenging time. 
The team, run by Amy Lesser Courage and Missy Brennan of Riverside, CT, includes eight sophomores from Greenwich High School, all committing many volunteer hours to improve the home experience for pediatric cancer patients throughout Westchester and Fairfield County.
The students hosted bake sales throughout the year and began Flamingo Flocking in the spring (have you been flocked?) to raise the funds necessary for the transformation. They then met with Gio, his parents Lauren and Juan and his two younger brothers to talk about his dream makeover. Interacting with the AFTH teens throughout the room makeover project is a tremendous healing opportunity for kids like Gio, and an inspirational experience for the volunteers.
Armed with Gio's special moments, photographs, and favorite color, the team, assisted by Amy (an interior designer), Missy and Missy's husband, Scott Campbell, painted the walls and trim, installed an area rug, display shelves and light fixture, assembled a new bed, desk, night table, and butterfly chair and even mounted a TV donated by Eshon Shafie, a generous Stamford man with no prior affiliation with AFTH. Everyone wanted to help Gio.
The room makeover was complete after a rewarding and inspiring two days, and the team was thrilled to see Gio's smile when the room was revealed.