A Legacy of Love, A Lasting Impact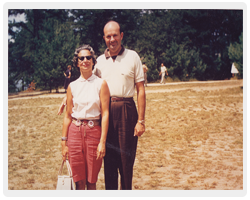 Yvette and Arthur Eder met in their 20's, and spent the better part of 60 years married before Yvette passed away in 2003, and Arthur passed away in 2006. 
When they first married, Arthur sent Yvette a letter stating, "I don't have much in the way of worldly goods and money to give you, but I will give you my love. Hopefully someday soon I will be successful and then I will be able to buy you anything you desire." As it turns out his promise came true, and he was more than able to provide for her, their children and grandchildren.
In 1933, Arthur began Eder Brothers, Inc with his brother Sidney. Eder Brothers is based in West Haven, CT, and is a wholesale wine and liquor distributor. As the business became successful, so did Arthur's desire to help others. At first he started small, but as time went on he was instrumental in the development of many organizations. 
When Yvette was dying of cancer and Arthur's own health was declining, they decided that their daughter Jill and granddaughter Rachel should start the Yvette and Arthur Eder foundation. Yvette and Arthur always loved children; it was with their love of children that inspired the mission to help sick or distressed children and their families. 
In addition to supporting Circle of Care, the Yvette and Arthur Eder Foundation also supports Camp Rising Sun, Connecticut Children's Medical Center,  Give Kids The World, Make-a-Wish, The Ronald McDonald House Charities and Yale New Haven Children's Hospital.
Yvette and Arthur Eder left an enduring legacy of love that continues to impact hundreds of families of children who are in treatment and facing substantial obstacles. We are grateful for their support. 
Learn more about the foundation here, or contact them by email.